helping hands program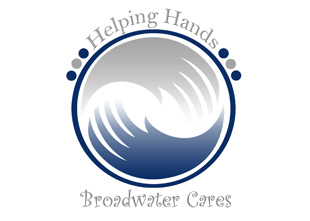 Can you use a Helping Hand? Or know of a neighbor who can?
Neighbors Helping Neighbors submitted by Joni Reese
When Paula Briggs' husband Steve passed away, her neighbors on 48th Ave. S. wanted to help Paula in any way they could.  Dana and Linda Farden had told Paula they would like to re-do her circle driveway landscape for her.  It needed a little attention but they were waiting for Paula to tell them what type of plants she wanted.  While on my daily walk with our dogs I ran into the Fardens and suggested that Paula would love whatever plants they chose and they should just do it.   I recommended some plant choices for them and suggested that Todd and I and few other neighbors would love to help too, so we broadened the scope of work to do the entire yard, front and back.  I made a plan and invited others.  The project was done on April 13th while Paula was in Indianapolis for Steve's Celebration of Life.   Dana and Linda went out and got all the plants, weed mat, shells and mulch, and everyone showed up around 9:00 Am that Saturday and went to work.  We all took a break for lunch at the Maximo Seafood Shack and finished the project at 3:30 Pm.  We all split the costs of the project materials and called it a day.  It was an amazing feeling to do something special for someone who has a very warm place in all of our hearts.  Paula was surprised and overwhelmed when she returned home.  This is what we do in Broadwater and why we love living here!!  Thanks to Dana & Linda Farden, Dave & Barb Hetrick, Erkki Taada, Iain Genders, Jayne Stokes, Lynn & Kristen Shoup, Doug Ousley, Ray Ockuly, and Joni & Todd Reese for taking the time to be great neighbors!
Neighbors Helping Pets thanks to Jeanne Rittinger for contributing to this article
On the morning of May 24th, a scared, hungry, and frustrated dog was running up and down 48th Ave S. Erkki Taada and several other neighbors tried to coax her with kind words, food, and drink with no success.  Here is where the power of Broadwater came into play. One infolink message had already been sent out resulting in several neighbors coming out to try to help this distressed dog.  Cars went slower and people walking tried to get the dog to calm down.  After Ryan Farner emailed some pictures to Tom Ando another infolink email was sent out.  Several neighbors responded to the email wanting to help. With Ryan on his scooter and Jeanne Rittinger in her car, they followed the dog down 46th Ave S to the cul-de-sac at the end of 40th St S where she went into a neighbor's backyard.  Ryan's Mom Kay had brought a leash and some cookies, Jeanne had water, and the neighbors on 40th St S brought out a bowl.  After a while, the dog settled down and she finally came and sat with Ryan and Jeanne.  Eric and Jeanne took her to the vet to see if she had a chip.  No chip was found so now the owner needed to be located.  Jeanne took her back to her home and received a call but it wasn't from the owner of the dog.  The call was from Perry Dempsey who lives on 46th Ave S.  Perry had received the infolink email and graciously offered to take the dog into his home to care for her until the owner could be located.  Perry took it another step further agreeing to adopt her if nobody claimed her.  In a matter of hours this stray dog was now resting comfortably in Perry's home.  It turned out to be a great day for Broadwater and a happy ending for a lost dog.  At this time the owner has not been found so this lucky dog now has a new loving home in the best neighborhood in St. Petersburg. Thanks to Perry and all who took the time to care!
Pro Green Lawn Service Helping Neighbors
We would like to offer a big thank you to Pro Green Lawn Service for providing helping hands for some of our neighbors. Recently Pro Green has provided discounted tree service and even free lawn service to a couple of our neighbors in need. Thank you Pro Green for helping to keep our community beautiful!  Pro Green provides full lawn service and pest control. For more information about what they offer, call 727-525-8097 or visit www.progreenlawn1.com.  If you or a neighbor in Broadwater needs a helping hand, please contact Kristen Mory at 727-688-9597 or kristenmory@yahoo.com. We have a wonderful group of volunteers and professionals who can assist you with a wide range of services. If we are not able to provide you with the needed services, we can at least help you find the resources you need. If you would like to be a Helping Hands volunteer, please contact Kristen.  Broadwater Cares!
The Helping Hands Program:
Broadwater Helping Hands is a program developed to assist our residents who need temporary or permanent assistance and do not have the resources readily available to obtain effective assistance. Here are some ways that fellow Broadwater residents and contractors who work in the neighborhood might be able to provide our residents either on a temporary or regular basis:
| | |
| --- | --- |
| | |
| | Equipment/Vehicle Repairs |
| | |
| Understanding/Help with Technology | Finding/Hiring a Qualified Service Professional |
| | |
| | |
| Discounts on Professional Services | Completing Forms/Documents |
| Understanding Notifications Via Mail or E-Mail | Adjusting Sprinkler Heads And more . . . |

If you or a neighbor of yours could use a helping hand, or if you are interested in being a Helping Hands volunteer please contact Kristen Mory at 727-688-9597 or via e-mail at kristenmory@yahoo.com to find out more about program details and eligibility requirements.