broadwater frozen party 2014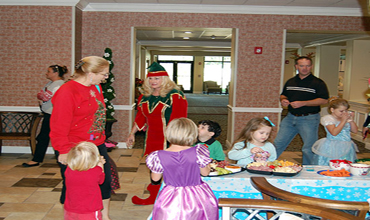 Broadwater Frozen Party 2014
Thanks to all of our Broadwater residents and family and friends who joined us for the Rowdies soccer game at Al Lang Field on July 25th.  A special thank you goes out to our great neighbor Grand Villa for hosting a pre-game picnic. Quite amazingly after an all-day rain, the skies cleared up just time for a nice gathering poolside. The pre-game activities continued with the kids receiving Rowdies T's and giving out high-fives to the players as they entered the field. The game was lots of fun, and hopefully we can do it again sometime! Until then, Go Rowdies!

The holidays have come and gone, but my little Madalyn still remarks "that was where we had our Frozen party" every time we drive past the Grand Villa!  She and the other 40 kids and adults had a blast at the Broadwater "Frozen" Family Holiday Party on December 13th.  The event was a great success and the venue was perfect!
Contributing to the success of the event was our ability to build relationships and connections between our neighbors with children; connect with some of our residents who do not attend our other traditional events; strengthen the relationship between Broadwater and our new business neighbor, Grand Villa; and of course, watching the children's eyes light up as they entered their own private movie theater and enjoyed a visit from Santa during intermission!  The kids and adults enjoyed some great food and took part in some wreath making. We wish to thank the City of St. Petersburg for helping to fund this event through the Neighborhood Partnership mini grant.
A big thank you to those who volunteered to help make the event a great success including Santa and his elves.  Thanks to Margaret Stone for helping everyone make some beautiful wreaths and Mike Pezze for leading the Christmas Carol sing-a-long. We also wish to thank Evan Mory, Evelyn Hill, Mary Lisan, Mike Milvain and the wonderful staff of Grand Villa.  Thank you to all of those who attended, and I hope to see all of you at future family events! Submitted by Kristen Mory. 
View Frozen Holiday Slideshow
Download Frozen Holiday Pictures